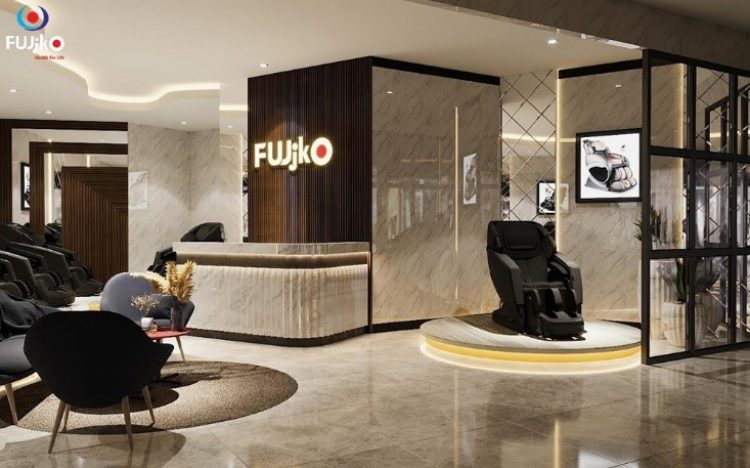 Fujjko
Third Floor [356] / Service, Shops for Children & Families /

10:00-22:00 (ngày thường)
09:00–22:00 (cuối tuần và ngày lễ)

Pets are not allowed
Workforce growth is one of the main drivers of market growth. The number of employees increases, the free time decreases, so people need to relax more in the face of the pressures of life. Understanding that, Fujjko has launched high-end full body massage chair products using modern technology along with traditional therapies to help people be more proactive in their overall health of themselves anytime, anywhere.
Fujjko is a trademark of Global Appliances Limited. Founded in 2014, after 6 years of operation, Fujjko has become a pioneer in bringing high-tech applications of physiotherapy in popular products and amenities to the health of consumers. Vietnam.
As an expert in the full body massage chair, with a team of highly qualified staff and counselors in the healthcare industry, we know each client well and know that you will in accordance with any of our product lines.
In September 2020, Fujjko continued to launch and open another store at Ha Dong Aeon Mall to meet the convenience of customers' shopping and experience for Fujjko products. . Our goal is that customers don't have to travel far because everyone has a Fujjko store close to home.
With modern technology combined with research in medicine, we understand how to create products that bring better health to the consumer community. Experience and support your own health with Fujjko. We cannot take our own health lightly, do not let any undue regrets just happen because of the wrong choice in buying massage chairs. Leaving spine pain, shoulder aches, nape, insomnia… Let Fujjko take care of your health.
Fujjko – Leading massage technology – trusted by millions of customers.