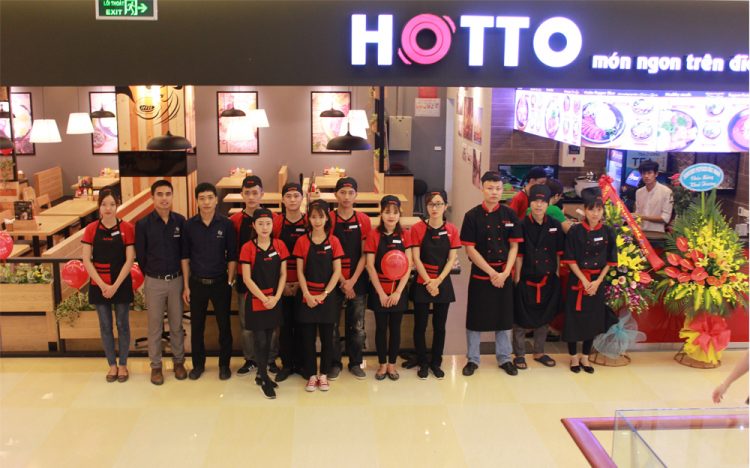 Hotto
Second Floor [257] / Restaurant / Member day.

10:00-22:00 (weekdays)
09:00-22:00 (weekends and holidays)

Pets are not allowed
Hotto is a chain of fast food restaurans, specialize in serving delicious dishes, according to Japanese technology, Hotto is the pioneer brand in use of Teppan – pan, a special Japanese pan can hold up to 270 degrees Celsius for 5 minutes, make cooked food directly on a pan and still keep it fresh.
From high quality materials such as American beef, Japanese salmon … to the food is familiar to Vietnamese such as  rice, vegetables, fresh mushrooms … combined with many unique sauces. Hotto has created an attractive menu, includes dishes with attractive flavors. All dishes are cooked right on the hot pan (Teppan pan), to keep ingredients fresh, warm, infuse all spcices.
And customers of Hotto, it is certainly impossible such as Kimchi beef rice with cheese sauce, Curry beef rice, BBQ beef rib rice, Pork rice with egg, Salmon rice with sauce Teriyaki, Italian salmon sauce …
Not only brings delicious food, Hotto also gives customers an interesting meeting interesting meeting space with open space,  modern and youthful design. On the area of ​​one floor at the most modern trade center in the capital, Hotto owns a capacity of about 50-60 guests, with outstanding small wooden tables and chairs, with some interesting drawings on the wall, both the lovely pots of plants … create a feeling of relaxation and fun for diners every time they come here.
With a price of about 80,000 to 150,000 VND / person, Hotto restaurant is very suitable for the occasion to meet, eat with family, friends, interesting dates of couples …
MEMBER DAY PROMOTION
20% off on total bill on 5th & 20th of every month