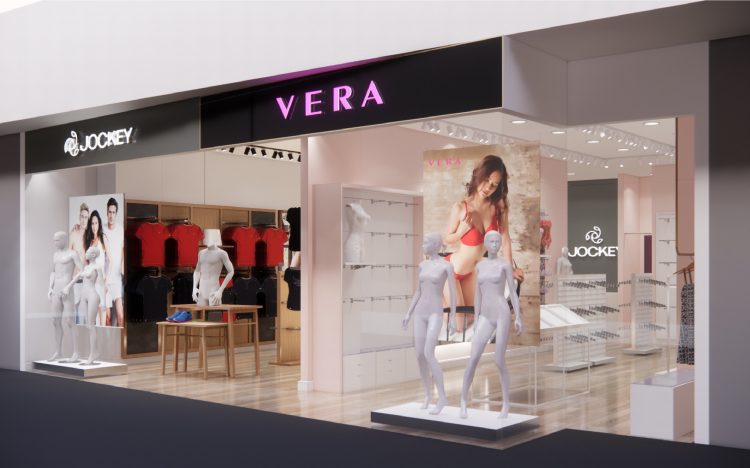 JOCKEY, VERA
Second Floor [276] / Men Fashion, Women Fashion /

10:00-22:00 (weekdays)
09:00–22:00 (weekends & holidays)

Pets are not allowed
Son Kim Joint Stock Company is one of the leading companies in the fashion industry in Vietnam. Sơn Kim is proud to be a pioneer in the field of men's and women's underwear with leading international brands such as VERA, JOCKEY.  
Thương hiệu nội y thời trang cao cấp của Việt Nam, tự hào phục vụ nhiều thế hệ phụ nữ Việt. Qua hơn 20 năm chuyên tâm phục vụ, lắng nghe khách hàng, VERA luôn đáp ứng và nâng cao tiêu chuẩn để phục vụ những nhu cầu của phái đẹp trong mọi hoàn cảnh, bằng chất liệu an toàn cho sức khỏe, kỹ thuật may khéo léo, công nghệ tiên tiến đến từ Nhật Bản, phom dáng chuẩn, phù hợp với số đo của phụ nữ Việt, kết hợp trải nghiệm mua sắm thú vị tại cửa hàng lẫn trực tuyến.  
Being a Vietnam's luxury lingerie brand, we're proud to have served a few generations of Vietnamese women. Over 20 years of delivering products & services from bottom of heart and always listening to customers, VERA has been enhancing quality standard to satisfy more and more customers. We are serving you products that made from high quality of materials, Japanese advanced sewing technology, which is safe for health, nice fitting for Vietnamese women. Vera is also improving your experience while shopping in-store and online. 
For more information, please visit : https://jockey.vn/  https://vera.com.vn/  
Fanpage: https://www.facebook.com/JockeyVietNamhttps://www.facebook.com/VeraVietnam  
Address : 2nd Floor, AEON MALL Ha Dong