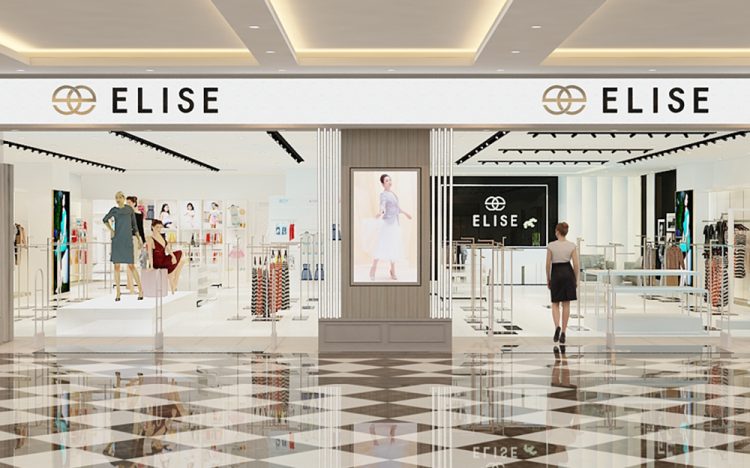 ELISE
Second Floor [202-203] / Women Fashion / Member day.

10:00-22:00 (weekdays)
09:00-22:00 (weekends and holidays)

Pets are not allowed
ELISE was founded out of our passion for business and fashion. Having overcome plenty of odds, ELISE is now among the most promising enterprises of Vietnamese fashion. The company is highly valued by various major international fashion groups and selected as their long-term partner.
For domestic consumers, ELISE is known as a top notch fashion brand, In particular, customers are fascinated by ELISE's elegant and modern style that is comparable to that of the world's established brands.
The company's power and potential goes well beyond statistics, machinery or factories, it lies in the People of ELISE. This includes a devoted and charismatic Board of Directors and our diligent, creative staff members. All of us yearn to contribute to the Company's mission, in which ideas are catapulted, talents promoted, and honesty and devotion respected. They are the greatest and most cherished treasure of ELISE. Their skills are cultivated constantly through each task and product, because it is truly the pride and reason of work of each staff member in ELISE.
ELISE not only won customers' hearts through sophisticated and refined designs, but also by putting the latest fashion collections on show.. ELISE was always regarded as the fastest growing fashion brand with a showroom network all over the three national divisions. We have a strong presence in some of Vietnam's largest cities such as Ho Chi Minh City, Hanoi, Danang, Haiphong or Quang Ninh…
Address: 2nd Floor, AEON MALL Ha Dong, Duong Noi ward, Ha Dong district, Hanoi
MEMBER DAY PROMOTION
5% off on total bill on 5th & 20th of every month